Welcome to
RHODES ISLAND
Rhodes is famous as the island of sun, sea and sand, the ideal place for vacations. It is the third largest Greek island and officially, the sunniest place in the Europe. The island draws hot summer rays like a magnet, so it's no wonder that Rhodes is called the island of the sun.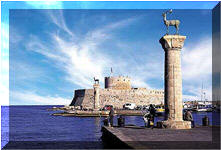 Are you planning to explore Rhodes Island on your own? Well, this is the site you need. Here you'll find everything from small and cheap hotels to big luxury suites. Small Taverns to fantastic restaurants. Find a car to rent and you can drive around on this beautiful island. Diving, Camping, Golf etc. Take your time and look around on our site.
What are you waiting for? Rhodes Island is waiting for YOU .